By: Jorge San Miguel, Esq. —
It is empirically proven that the more economic freedom there is in a jurisdiction, the greater the prosperity it achieves in areas such as income, education, health, environmental protection and poverty reduction. How is this economic freedom achieved? First, with a government that enjoys fiscal freedom and limits its public spending. Second, with regulatory effectiveness that encourages business and labor freedom. And third, allowing open markets that stimulate commercial, financial and investment freedom. Hong Kong, Singapore and Chile are among the freest economies in the world and against which we frequently compare ourselves or towards which we aspire.
Puerto Rico Today
Puerto Rico has recently turned against all these principles of economic freedom – increasing public spending, eliminating tax and permit reforms, and taxing and limiting commercial and investment activity. The official discourse today is that Puerto Rico's economy has been in contraction since 2006… we need Chapter 9 of the Federal Bankruptcy Code… and now we do need economic growth reforms.
Longing For The Past (recent)
This speech ignores the economic growth policies adopted between 2009 and 2012. Between these years, Puerto Rico implemented significant and effective measures that improved public services and caused economic growth. The most notable measures included: (i) Law of Public-Private Partnerships (Law 29-2009); (ii) Permit Reform Law (Law 161-2009); (iii) Tax Reform Law (Law 1-2011); (iv) Services Export Law (Law 20-2012); (v) Law to Encourage the Transfer of Individual Investors (Law 22-2012); (vi) Adjustment in government expenditures and the payment of past due debts to government suppliers. The government also encouraged private investment in renewable energy projects, achieving solar and wind projects never before developed on the island. The public-private alliances of the PR-22 highway and the Luis Muñoz Marín international airport were also directed, both valued at more than $ 2.4 billion. Together, these measures placed Puerto Rico's economy in positive territory for the first time since 2006, according to the Economic Activity Index of the Government Development Bank of Puerto Rico. Furthermore, these measures and the resulting economic activity created optimism and confidence in financial markets. The accrediting house S&P, for example, raised Puerto Rico's credit rating from BBB- to BBB. In fact, shortly after the 2012 general election, Fitch Ratings issued a statement on December 18 urging the incoming administration to continue the established economic growth measures.
However, the incoming government adopted contrary policies that were soon to be felt. Contributions increased (Laws 40-2013 and 77-2014); they eliminated the 2009 permit reform (Law 151-2013); increased government spending; new public-private alliances ceased and attacked the conclusion of the international airport alliance process. They also paralyzed renewable energy projects. The result has been clear. All three credit bureaus downgraded the island's credit rating to the lowest point in history. International competitive studies by the World Bank Goup and the World Economic Forum also show deterioration in multiple categories. According to the World Bank, the ease of doing business in Puerto Rico lost six positions in a single year (position 41 in 2013 to 47 out of 189 jurisdictions in 2014).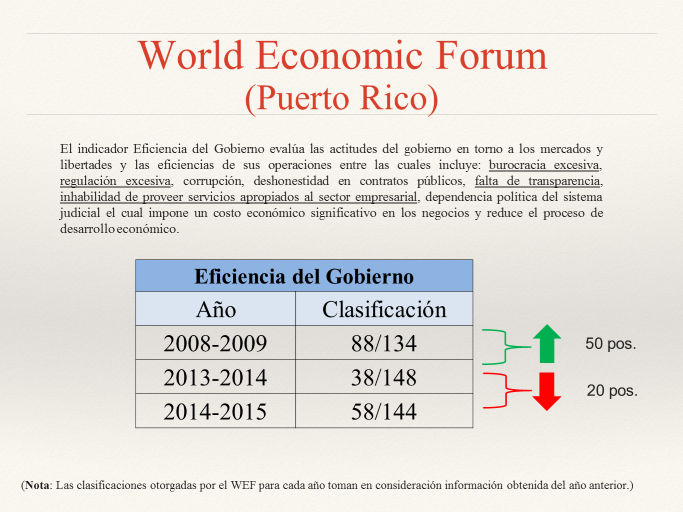 In terms of governance efficiency, the World Economic Forum places us losing 20 positions (position 38) between 2013 and 2014 (from position 38 to 58 out of 144 jurisdictions) – after having advanced 50 positions between 2009 and 2012.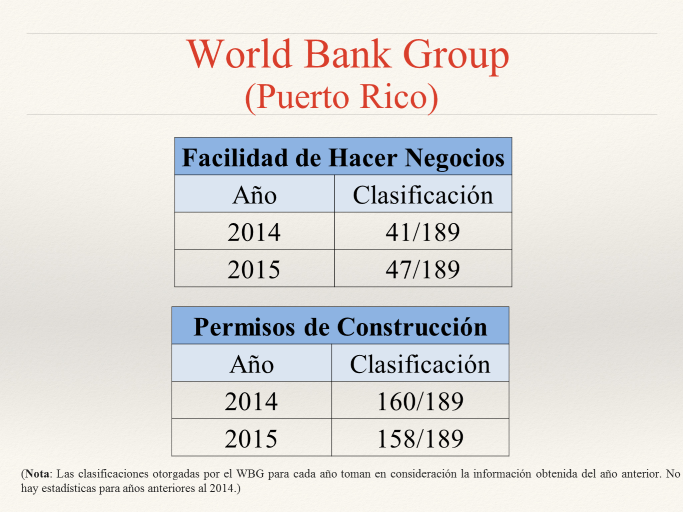 Resuming Growth
Can Puerto Rico, once again, overcome the current structural and economic barriers? Without a doubt, we did it barely 3 years ago. In the immediate term, Puerto Rico can implement four initiatives that do not require legislation, restructuring, Chapter 9, or involve political risks. These initiatives support the pillars that ensure greater economic freedom and have a total value of between $ 4- $ 8 billion between additional annual income, savings and economic investment.
First, we must increase the collection of existing taxes. The island averages a 56% tax collection when the national average is 83%. An updated rate of between 65% to 70% would increase revenue between $ 400- $ 600 million annually. This can be achieved with existing technology and effective enforcement.
First, we must increase the collection of existing taxes. The island averages a 56% tax collection when the national average is 83%. An updated rate of between 65% to 70% would increase revenue between $ 400- $ 600 million annually. This can be achieved with existing technology and effective enforcement.
Second, the government must implement – through executive orders – an immediate permitting reform that expedites and facilitates permitting processes particularly for critical infrastructure such as roads, energy, water, among others. This initiative can provide an estimated $ 1 – $ 2 trillion in new short-term investment.
Third, the government can and should execute public-private partnership projects. These projects provide multiple benefits such as: (i) rapidly monetizing government assets, (ii) transferring operation and maintenance costs to a private entity, and (iii) optimizing infrastructure to improve economic growth. Puerto Rico has a variety of assets that can benefit from these alliances, including highways, airports, seaports, power plants, and water and sewerage projects. A conservative estimate suggests transactions valued between $ 2- $ 4 trillion.
Finally, the government has to implement the reform of purchases of goods and services for the public sector. This reform is legislated – but not used – since November 2011. It is imminent to centralize and reduce public spending. During the past fiscal year the government paid over $ 13 billion in goods and services – a figure greater than the government budget – for 130 executive agencies, 78 municipalities, and 17 public corporations. The implementation of the 2011 reform would provide volume benefits, increase transparency and competition between suppliers. A simple 10% – 20% increase in efficiency would save us between $ 1.3 – $ 2.6 billion annually.
The current situation is not a "crisis" but an opportunity to implement the necessary reforms to improve public services, help the most vulnerable and restart economic growth. Recent history validates us. The implementation of economic growth policies will lead us towards a freer and more prosperous economy. The options exist, we know them and they are in our hands. It is a matter of will; you just have to act.
JSM